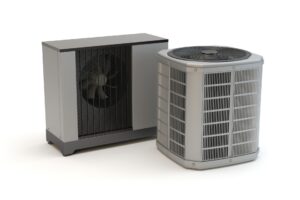 You can find a dozen listings for contractors who will work on heat pumps with a single Google search, but when you type in "best heat pump contractors near me", you're just getting a random feed of companies that offer a service. So how do you find which one is right for you?
There's a few ways to make it happen, so let's go over the entire process. By the end of this, you'll be able to find the right heat pump contractors for your specific needs, budget, and expectations.
Check Their Websites and Make a Short List
You can learn a lot about an HVAC company just by visiting their website. This not only shows the services they cover, but tells you what they value and how they stand to help you. It's easy to rope together a lot of companies because they simply offer the same services, but not every company handles requests in the same manner.
Ask Them the Hard Questions
You've got your list and now it all comes down to the nitty-gritty. It's time to see if the company you have in mind can deliver great service and it starts with these questions.
Are your technicians certified? Technicians should be certified to work on the systems that you're hiring them to work on. It sounds like a no-brainer, but some HVAC companies out there don't meet this standard.
Are your services and technicians insured? Imagine that a technician comes onto your property, gets hurt, and incurs a $20,000 medical bill in the hospital. Do you want to be on the hook for that? That's why having insured HVAC contractors is essential no matter the job.
Do you have financing options available? When you pick an HVAC company, the idea is that they're your one-stop shop for your heating, cooling, and whatever other services they may offer. If that's the case, you want to be certain you can rely on their financing options in the event that you need them.
Is your work guaranteed? Guarantees are promises that these companies make to you, and usually they'll have this information publicly on their website or somewhere in their branding. If an HVAC company doesn't guarantee their work, do you really want to work with them in the first place?
Ask for Word-of-Mouth Recommendations
If your friends, family, or neighbors have used an HVAC company in recent years, it pays to get recommendations right from them. If you've found an HVAC company you think you want to work with, ask those close to you if they've ever used the exact same service. Take it from a source you know you can trust above all else.
Let's Get Started as Soon as Possible
Once you know what to look for, you'll quickly notice quality when you see it–and you're looking right at it. We're here to help you with all of your heat pump needs, no matter what they are. Pick up the phone and give us a call today.
Contact Potter Heating Cooling & Plumbing today to schedule your new heat pump installation, repair, or maintenance appointment as soon as possible.