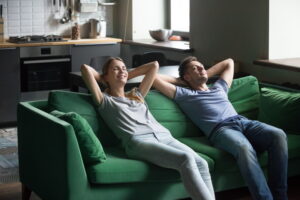 We know that installing a new air conditioner is a tall order, and that it can be slightly disruptive to your day-to-day life. With the right AC install in Brighton, it can be a smooth transition that you don't have to dread.
It'd be great to tell you exactly how your installation is going to go without any surprises, but the truth is, every installation has its hiccups, roadblocks, and unique twists. However, we can tell you all the steps of an AC installation so you can prepare ahead of time and help streamline the process.
The Pre-Installation Appointment
It would be a crying shame to show up on installation day and not have everything ready. That's why a pre-installation appointment does wonders for the brevity of the final process.
A qualified HVAC technician will come to your home, assess what needs to be done, and help uncover some of those would-be speedbumps before they become issues. Whether it's discovering that some wiring needs to be replaced or that ductwork has been chewed through by critters, it all plays into a clean, quick installation process.
Out With the Old
On installation day, the first thing is taking out that old air conditioner. When it's removed, your contractors can assess what remains and plan out the rest of the installation. If they need to replace anything, such as wiring, this is the time they'll figure out how it's going to get done.
Evaluating That Old Ductwork
Ductwork can last for a very long time, but do you know when your ductwork was installed? Many homeowners don't, and that's okay–but if you're unsure, your HVAC technicians will be able to figure it out.
Old ductwork can lead to air leaks, loss of cool air, and air pressure problems. Basically, it all boils down to inefficiency, a lower life expectancy for your new unit, and higher monthly energy bills. While they have it all opened up, your technicians will be sure that your ductwork is A-okay, or they'll replace what they need to.
In With the New
Now that the old unit is gone, it's time to put the new unit in. At this stage, your technicians will have taken care of any miscellaneous tasks surrounding ductwork, insulation, and wiring, so when they bring the new unit in, it's ready to be put in its place.
Then they'll run through a few more tasks, such as installing the thermostat, testing it, running the AC to ensure it's operating properly, and checking for oversites.
Then they'll provide you with all your warranty information, any manuals or documentation you'll need, and they're good to go. After clearing out their tools and cleaning up any debris or materials from the installation, they're on their merry way, and you get to enjoy your new air conditioner.
Let's Hope it All Goes According to Plan
Even with some bumps in the road, we're dedicated to making sure you're completely taken care of no matter what happens. We'll be able to diagnose and fix whatever problems pop up, so even if it doesn't go according to plan, we're there to help. It pays to have a team on your side who's been around the block.
Contact Potter Heating Cooling & Plumbing today to schedule your AC installation as soon as possible.