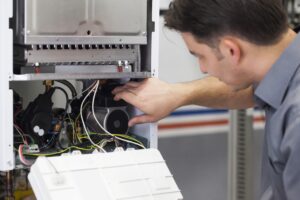 Choosing the right heating contractors for your home isn't a small task. You want to have confidence in the team that you hire to come into your home and work on your heating system. That's understandable, and we're here to help make sure you get exactly that. This is what you should look for in heating contractors.
Competitive Pricing
The cheapest option is seldom the best one, but you still have to keep a budget in mind. You want to look for a good price, of course, but you need to know what you get with that price tag as well. This is where the next checkbox on our list comes into play.
Years of Experience
A heating contractor should know what they're doing, and that comes from years of actually doing it. While it's not a bad thing if a contractor company is newer, the individual technicians on the team should have years of experience to add to the company. Years in business and individual technician years of experience all play into whether or not you should trust an HVAC company with your heating installation, repairs, and maintenance.
Insurance Coverage
Would you want to hire a technician and let them on your property, only to find out that if they were to get severely injured, you'd be on the hook for the medical bills? Exactly–we didn't think so. Insurance coverage is a must, and it's something that not every amateur or new heating contractor company has to offer.
This is something extremely important that you can't skip out on, even if the price of a quote you received seems enticing. This is something that you don't want to look back on and wish you went with a company that had insurance–it's never worth the hassle. Make this a deal breaker on your short list of HVAC contractors you're willing to hire.
Proper Quotes (in Writing)
You can receive a quote verbally over the phone, but that doesn't mean the company is going to stick to it in the long run. You need to have your quote in writing so that when you decline all the other companies on your shortlist, you can know for certain that you'll get the price and scope of work that you're anticipating.
Emergency Service Available
When you choose a heating contractor company, you're ideally finding a company that you can call for anything, beyond this one project you have in mind. While it's not a deal breaker, it's important to have 24-hour emergency service available in the event that you need it. Especially with how winters get in our neck of the woods.
Don't Settle For Less
It's important to have the right contractors for the job, no matter what it is. Whether it's a big job or a smaller task that needs to be done, you never want to invite an HVAC contractor company into your home when they don't have your best interest at heart. We'll have your back every step of the way.
Contact Potter Heating Cooling & Plumbing today to schedule your heating service today, from installations to repairs and more.