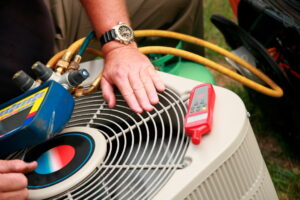 Central air conditioning is the most common type of AC you'll find in any home throughout the US, but it's far from perfect. It's not the only game in town, so when you compare central AC against other types of home cooling systems, you can see the flaws that central AC has at its core.
While we still say that central air conditioning is a great option for most homes, some require specific systems. Let's find out what type of air conditioning in Brighton you really need by putting some of the issues with central AC in the spotlight for a change.
It Has its Inefficiencies
Central air conditioning only focuses on one temperature, and its goal is to lower the entire house temperature down to that number. This is great for air circulation and preventing mold from growing in obscure rooms where humidity and higher temperatures may hide, but it isn't the best for your wallet.
With so many cooling options available for you to take advantage of, such as heat pumps with up to 50% better energy efficiency, or ductless units that let you control the temperature of different zones across your home, it's hard to say that central AC is still your best option.
Ductwork Is Difficult to Maintain
Ductwork can also be expensive. It's a tricky beast to tackle in your home because while it's necessary for many types of HVAC systems, you have options like ductless mini splits that not only cool your home, but can also heat it. There's no ductwork, so there's simply less to maintain and worry about. When that's a possibility and it's not too far out of reach, it makes it difficult to choose central AC even with its benefits.
More Costly on Your Monthly Utility Bills
Whether you pit a brand-new central AC up against a brand-new heat pump, or both units have endured 10 years of wear and tear, a heat pump will still use less energy than a central AC to cool your home. Energy efficiency translates to monthly costs, especially when your energy company decides to increase the price per kWh.
They Can Be Overkill for Small Homes
A central air conditioner is sized appropriately for your home. A technician comes out and performs a pre-installation appointment for this very reason. But if your home is rather small, a central AC might be too much and actually cost you more in the long run.
It's not uncommon for small homes to be cooled (and heated) entirely with a single ductless mini split instead of a full central AC. This is also much better for small spaces where running ductwork would eat up valuable square footage that could be used for storage, such as in the attic.
Ready for Your Next AC?
Whether it's a central AC system, ductless, or a heat pump, we're here and ready to install that new unit for you as soon as possible. With so many energy-efficient cooling options at your disposal, it's hard to choose. You can always contact us if you want to learn more about which system would work best in your home.
Contact Potter Heating Cooling & Plumbing today to schedule your new air conditioner installation today.