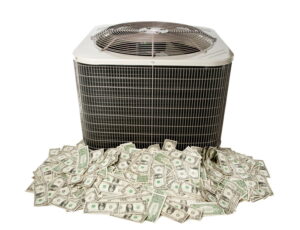 Your air conditioner doesn't work, so you call for repairs. When the repair technician shows up and does their thing, they quote you on the cost to repair it, and it takes you a second to realize just how much they said.
You've paid repair bills in the past, so why is this one so high? What's the deal? Well, it comes down to your air conditioner's age and how much wear and tear it has. Air conditioner replacement might be a better option than repair, and that's exactly what we're going to talk about today.
The Gist of the 50% Rule
So what is this magical 50% rule? It's a way to tell if your air conditioner should be repaired, or if it just needs to be replaced.
If your repair bill is 50% or more than the cost of a brand-new AC installation, then you're better off just getting that new unit. Yes, it's a big price jump from the repair, but here's why it's recommended.
That quote you got? It's not the last repair this old unit will have. And it's unlikely that it'll buy 5+ years of life for your air conditioner, especially if it's already an older unit (we'll talk more about that later, too).
Wear and Tear Runs the Show
Getting timely repairs, not overworking your AC, and sticking to a maintenance schedule are all key components to a long life for your AC. But it's not a guarantee.
It lowers the odds that you'll have to replace your AC early, which is absolutely what you want. Wear and tear will do their damage over time no matter what, and good AC maintenance hygiene will help slow it as much as possible.
That being said, it's important to know that no technician can make your AC "like new" because wear and tear is degraded as a result of usage and time. A certain element of it is unavoidable, which is why this next section is true no matter how well-maintained your AC is.
You Have 10-15 Years on Your AC's Life
The average lifespan of an air conditioner is 10-15 years before it must be replaced. While there are a few air conditioners that last longer, it's on borrowed time, and poorly maintained air conditioners may break down before that ten-year mark.
That's why it's important to save money for your replacement now, especially if you moved into your home with an AC already installed and no maintenance history. Save now, or you'll be stuck financing most of your new air conditioner installation.
It's Up to You: Replace or Repair
Foot the bill, or replace that AC and get a new lease on your home's cooling consistency. It's up to you, but it's important to think about the long-term impact and not just what it means for your family short term.
Also, keep in mind that newer air conditioners adhere to a SEER2 standard (effective January 1st, 2023) and have higher energy efficiency ratings, so it might be in your best interest to replace that AC anyway and lower your monthly energy expenditure.
Contact Potter Heating Cooling & Plumbing today to schedule your AC repair or replacement as soon as possible.